WaterSpecs Irrigation Services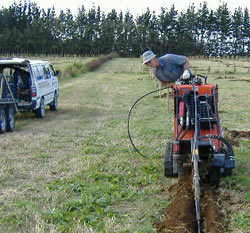 We are based in Whangarei and service Northland. Our business is to offer Irrigation Installation. We are interested in assisting you with your irrigation needs, whether it is horticultural orchards or crophouses, agricultural, sports turf, industrial dust control, frost fighting systems, residential and municipal landscapes, slot and surface drainage. (See machinery page for description of our equipment.)
Richard O'Donnell the principal of WaterSpecs is a member of Irrigation NZ and we adhere to the current 'Codes of Practice'.
Thirty years experience as a certified engineer involved in design, maintenance, fabrication, production, water treatment, supervision and management along with 25 years involved in Avocado and pastoral farming. We have the experience and resources to offer sensible and practical designs and installations.
After having found a void of irrigation services and good local demand, we were encouraged to set up to apply our expertise and knowledge specializing in irrigation engineering and installation; thus we began trading as WaterSpecs in 1998.
Our service covers all aspects from the design stage through to the completed infrastructure. Upgrading of existing systems, repairs and maintenance. Materials are sourced specifically and to requirements at wholesale prices from the most appropriate importers and manufacturers.
We offer assistance, training and supervision and will support clients who want to put their own labour onto the projects.
A personal site visit is standard practice where we can meet and discuss your wishes, measure, calculate, design and estimate on your project. Please see our contact page we welcome your enquiries and you can be assured of our best attention.
Our Vision — To provide the right solutions now and for the long-term benefit of our clients.
Our Mission —To accept responsibility for the results of our work.
Our Future — To endeavour to stay on the leading edge of the technology in the irrigation industry.